Puriton racer TJ Toms leads the championship after Brands Hatch.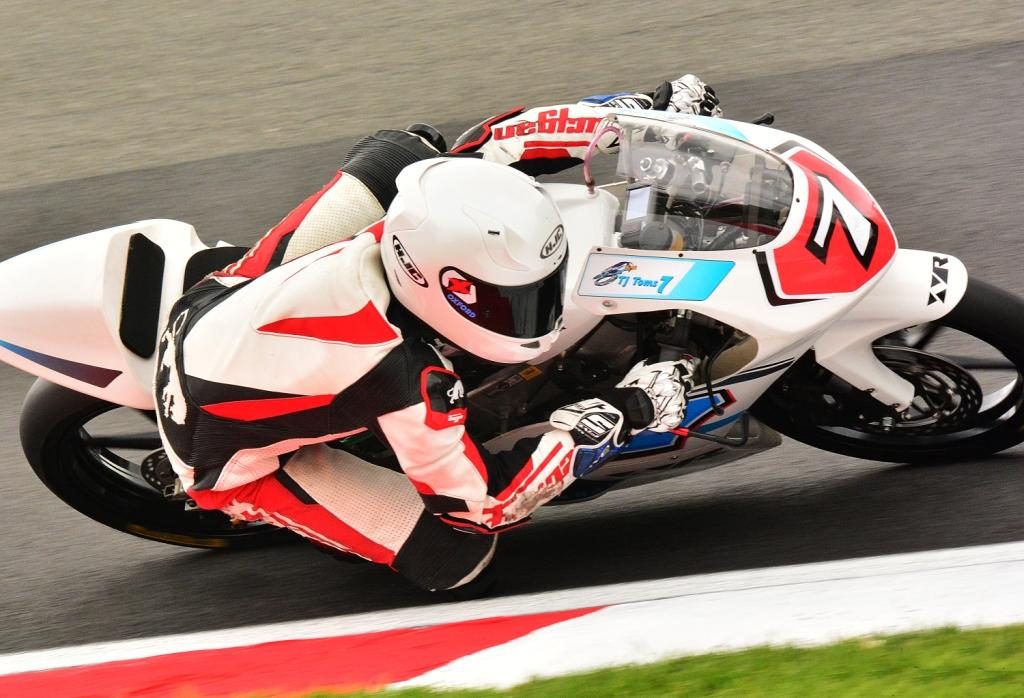 Two hard fought second place finishes earned TJ Toms of Wilson Racing the lead in the Motostar British Moto3 standard class Championship on the Brands Hatch Indy circuit last weekend.
A dry 30 minute free practice was frustrating for TJ Toms as he only managed to achieve the eighth best time. He was unusually almost a second of the pace.
Late in the afternoon during Q1 Toms reduced his lap time significantly and moved up to fourth. He was now just two tenths behind the leading rider in the standard Moto3 class.
Although it rained overnight the concerns of Q2 on Saturday  being wet proved unfounded as the track had dried by the time the session started. Lap times continued to fall with TJ Toms cutting his lap time again. He ended Q2 with the third fastest time in the standard class, just 0.14 seconds behind the leader.
On Saturday afternoon the first race of the weekend took place. As the riders lined-up on the grid the heavens opened and tyres were rapidly switched to wets. As the grid was cleared for the riders to start the rain stopped, but with all standard class riders on wets no one was going to have any advantage.
The 16 lap saw TJ Toms fourth at the end of the first lap. He pushed hard and overtook Dan Jones for third on lap six. The following lap he moved through on Asher Durham and up to second place. TJ gave it his all to catch the leader but narrowly missed out by just three tenths of a second. However, he collected 20 more valuable points for the championship.
A 22 lap second race took place on Sunday under threatening skies. Fortunately there was no rain on this occasion. In front of  packed grandstands TJ Toms made a fantastic start and led the standard class Moto3 riders for the first half of the race. Dan Jones managed to pass TJ Toms on lap 11. Showing his true determination Toms didn't let Jones escape at the front. Battling hard all the way Toms took another second place finish this time missing out on victory by just four tenths of a second.
TJ Toms, "I'm really really happy with the way that it went. It wasn't as good of a start to the weekend as we wanted but it got better as it went on, so I'm really happy to come away leading the championship. A big thank you to all my sponsors and to Gary Wilson for a great bike again."
TJ Toms now leads the Moto3 standard class Championship by ten points and surely a race win is only a matter of time.
Photo: Max Revs Images