In poor conditions Goole's Charlie Atkins secured an outstanding fifth place in the first race of the British Talent Cup series at Donington Park. The conditions deteriorated on the Bank holiday Monday which meant the second race was cancelled.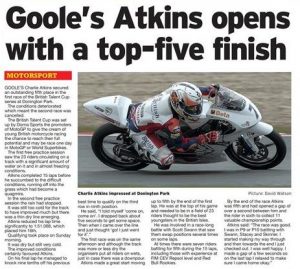 The British Talent Cup was set up by Dorna Sports the promoters of MotoGP to give the cream of young British motorcycle racing the chance to reach their full potential and may be race one day in MotoGP or World Superbikes.
The first free practice session saw the 23 riders circulating on a track with a significant amount of water on it and in almost freezing conditions. Charlie Atkins managed to complete 15 laps before he succumbed to the difficult conditions running off into the grass which had become a quagmire.
In the second free practice session the rain had stopped. It was still too cold for the track to have improved much but there was a thin dry line emerging. Atkins reduced his lap time significantly to 1:51.068 which placed him 16th.
Qualifying took place on Sunday morning. It was dry but still very cold. The improved conditions certainly favoured Atkins. On his final lap he managed to knock nine tenths of his previous best time to qualify on the third row in ninth position.
He said, "I told myself 'come on, come on'. I dropped back about 5 seconds to get some space. Then when I came over the line and just thought 'go! I just went for it'"
The first race was on the same afternoon and although the track was more or less dry the organizers put all riders on wets just in case there was a downpour. Charlie Atkins made a great start moving up to fifth by the end of the first lap.
Atkins was at the top of his game and needed to be in a field of 23 riders thought to be the best youngsters in the British Isles. He was involved in a race long battle with Scott Swann that saw them swap positions several times on some laps.
At times there were seven riders battling for fifth position including riders with experience at FIM CEV Repsol level and Red Bull Rookies pushing Atkins hard throughout the 15 laps.
By the end of the race Atkins was fifth had opened a gap of over a second between him and the rider in sixth to collect 11 valuable championship points.
Atkins told us," The race was good. I was in P9 or P10 battling with Swann, Stacey and Skinner. I started making my way through and then towards the end I just checked out. I was well happy. I made a gap of a few seconds so on the last lap I relaxed to make sure I came home ok."