Atkins consolidates seventh in the Moto3 championship
Charlie Atkins from Goole finished sixth and seventh in the two Moto3 races held at Brands Hatch at the weekend. Competing on a standard Honda NSF250R in the Hel Performance British Motostar Championship he consolidated his position of seventh overall.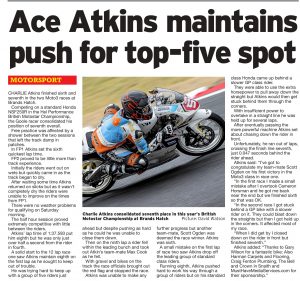 Free Practice
Free practice was affected by a rain shower between the two sessions that left the track damp in patches. In FP1 Atkins set the sixth quickest lap time. FP2 proved to be of little more than track experience. Initially the riders went out on wets but quickly came in as the track began to dry. After waiting some time Atkins returned on slicks but as it wasn't completely dry the riders were unable to improve on the times from FP1.
Qualifying
There were no weather problems for qualifying on Saturday morning. The half hour session proved extremely competitive with little between the riders. Charlie Atkins lap time of 1:37.593 put him eighth but he was only just over half a second from the rider in fourth.
Race One
A solid start to the 12 lap race one saw Atkins maintain eighth on the first lap as he sought to keep out of trouble. Atkins was trying hard to keep up with a group of five riders just ahead but despite pushing as hard as he could he was unable to close them down. Then on the ninth lap a rider fell within the leading bunch and took out Atkin's team mate Max Cook as he fell. With gravel and bikes on the track the race officials brought out the red flag and stopped the race. Atkins was unable to make any further progress but another teammate, Scott Ogden was deemed the race winner. Atkins was placed sixth.
Race Two
A small mistake on the first lap saw Charlie Atkins drop off the leading group of standard class riders. Running eighth Atkins pushed hard to work his way through a group of riders but on his standard class Honda came up behind a slower GP class rider. They were able to use the extra horsepower to pull-away down the straight but Atkins would then get stuck behind them through the corners. With insufficient power to overtake in a straight line he was help up for several laps. After eventually passing the more powerful machine Atkins set about chasing down the rider in front. Unfortunately, he ran out of laps crossing the finish line seventh just 0.047 seconds behind the rider ahead.
Charlie Atkins said, " I've got to congratulate my team mate Scott Ogden on his first victory in the Moto3 class in race one. In the first race I made a small mistake after I overtook Cameron [Horsman] and he got me back near the end but we finished sixth so that was OK. In the second race I got stuck behind a GP bike with a slower rider on it. They could blast down the straights but then I got held up in the corners. It affected most of my race. When I did get by I closed down on the rider in front but finished seventh."
Atkins added, "Thanks to Gary Wilson for a fantastic bike: Also Harman Carpets and Flooring, Craig Fenton Plumbing, The Bell and Crown in Snaith and MustHaveMediaServices.com for their sponsorship."