Nesbitt takes more points at Le Mans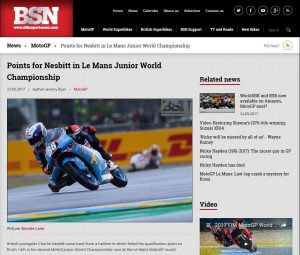 Nesbitt managed to come back from a hailstorm which foiled his qualification plans to finish fourteenth in his second Moto3 Junior World Championship race at Le Mans in France.
The weather made life difficult for all the riders at the Le Mans circuit in France with no dry track time before the race began.
During the first wet qualifying practice Swindon rider Nesbitt concentrated on learning a new track rather than pushing for a good lap time because of the rain. He finished the session in 23rd place.
In the second qualifying period a similar decision was taken in that he wouldn't push until the final ten minutes. Clearly the idea was for Nesbitt to gain valuable track time and experience rather than risk sliding off.
Unfortunately at the end of Q2 there was a hailstorm which meant Nesbitt lost his chance to put in that decent lap time. The result was he qualified down in 29th position.
Despite the disappointment of having been caught out by the weather Nesbitt set about immediately trying to improve the situation during warm up on race day. His lap time of 1:52.194, again in wet conditions placed him sixth quickest overall.
The race got underway mid-afternoon and the Monlau Engineering rider was immediately on the pace. He quickly made up seven places in the opening laps before fighting a battle with three other riders where they regularly swapped positions they fought for fifteenth position.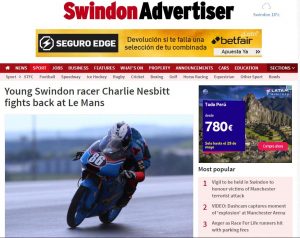 As the race drew to a close Nesbitt pushed up into 14th place and dropped the other riders in the group he had been racing. In the process he set his best lap of the race a 1:45.411.
Charlie Nesbitt said, "It was a pity with qualifying as our strategy seemed sound and I would have liked to have been battling further up the field. We just got caught out by the hailstorm at the end of Q2. That obviously made things a lot more difficult for the race but to have started 29th and finished 14th I can't be too disappointed. I must give a big thank you to SRS and Swindon Electrical for their continued support and of course Scott Redding, Michael Bartholemy and the team."
After the first two races which have seen Nesbitt trying to learn new tracks in difficult conditions he will be hoping that at Montmelo, in three weeks time, he can get to learn the track and set-up the bike in the same conditions as the race.