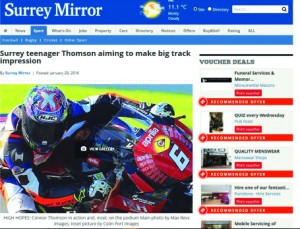 Dale Thomson contacted us having seen a press release we produced for another client and asked us if we could prepare something for his son Connor Thomson. So we interviewed Connor and contacted a couple of professional photographers we know that could provide us with high-quality images. The Connor Thomson press release appeared in the Surrey Mirror on the 28 January 2016. It was produced in print form, in their newspaper and also available online.
Connor Thomson is an aspiring young motorcycle rider from the Surrey area and was due to enter the Aprilia Superteen series for 2016. Having recently secured new sponsorship we also managed to have them mentioned in the article with a view to creating further goodwill between the team and sponsor.
The need to keep sponsors informed and make them feel part of the team is, we believe, an important part of your team management and should not be overlooked. The more invovled and appreciated a sponsor feels the more liekly they are to continue supporting the team and/or rider going forward.
The link to the web article can be found here.