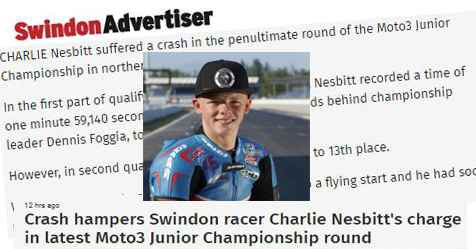 Charlie Nesbitt started his weekend at Motorland for the penultimate round of the Moto3 Junior World Championship in a positive frame of mind. After two good results in the previous two rounds Nesbitt was on the pace quickly at the Motorland circuit.
In qualifying one Charlie Nesbitt made a huge impact. On his final flying lap he set a time of 1:59.140. Nesbitt's superb time was just 0.410 seconds behind Dennis Foggia the leading rider in the Moto3 Junior World Championship. The time would have been good enough to put him eleventh on the grid in Moto3 at the GP round.
In the second qualifying period the team made some adjustments to see if they could improve the performance further. However, it didn't work and upset the front of the bike. Although Nesbitt was unable to improve on the morning time it was good enough to see him line up 13th on the grid.
This round of the series only had one race and Nesbitt and the team had reverted to the settings they used for qualifying one. There was a delayed start after two red flag incidents in another championship series. Once the race eventually got underway Nesbitt made a good start and moved up to 11th position. On the third lap he closed down his team-mate Alonso Lopez and was running with the leading group. Unfortunately, he had a huge high-side coming out of turn fifteen. Nesbitt was stretchered off after twisting his ankle badly and he also got his hand caught under the bar causing his glove to explode damaging a finger.
Charlie Nesbitt said, "Qualifying was fantastic and I was looking forward to the race because I knew I could run at the front. To be honest I don't know why I crashed. I went through the corner as I did on the previous two laps but this time I high-sided. I'm disappointed the way the race ended, for me, the team and the sponsors after we had shown really good pace and I was with the leading group. I've now got to move on and concentrate on the final round at Valencia. As always a massive thanks to Scott Redding, Michael Bartholemy, Simon at SRS, Swindon Electrical and the whole Monlau Engineering Team."