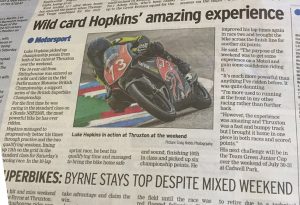 This weekend Sittingbourne motorcycle racer Luke Hopkins entered as a wild card in the Thruxton round of the Hel Performance Motostar British Championship. This is a Moto3 support series of the British Superbike championships. 14-year-old Luke was racing in the standard class for the first time on a Honda NSF250R, which is the most powerful bike he has ridden to date.
On the Friday morning he had the opportunity of learning the track and the bike in a thirty minute practice session. He improved his lap time by almost 1.7 seconds during the session to set record a time of 1:32.715 toward the end of the session.
Later the same day the riders had their first qualifying session. Luke Hopkins managed to put in another 16 laps as he looked to gain experience aboard the Honda and learn the fast and bumpy Thruxton circuit at the same time. A tall order but he reduced his lap time by 0.229 seconds.
In Q2 Luke Hopkins managed to reduce his lap time further with a 1:31.621 which was almost nine tenths quicker than he managed in Q1. He qualified in twelfth position in the standard class.
Race one was on the Saturday afternoon as Hopkins continued his learning experience aboard the Honda Moto3 machine. The race was a ten lap sprint. Hopkins got off to a steady start and gradually improved with each lap. On his seventh lap he beat his qualifying time and he managed to bring the bike home safe and sound. Finishing tenth in the class Hopkins picked up six championship points.
Race two saw the rider from Kent further improve his lap times as he got more and more used to the fast flowing corners of Thruxton. He had cut more than two seconds off his best time from Friday and again brought the bike across the finish line for another six points.
Luke Hopkins, "The purpose of this weekend was to get some experience on a Moto3 and gain some confidence riding it. It's much more powerful than anything I've ridden before. It was quite daunting to be honest and I'm more use to running at the front in my other racing rather than further back. However, the experience was amazing and Thruxton was a very fast and bumpy track but I brought it home in one piece in both races and scored points."
Luke's next challenge will be in the Team Green Junior Cup over the weekend of 30th to 31st July at Cadwell Park.
Photo Craig Hobbs Photography