Jack Hart finished the first ever British Talent Cup race in an excellent 13th place picking up his first championship points in the process.
The 23 riders making up the British Talent Cup got their first taste of competitive action in far from ideal conditions at Donington Park last weekend. As they went out for the first free practice session on Saturday the rain was falling. The track had plenty of water in places and the temperatures were very low.
Free Practice
The aim of the first session was really to get a feel for the bike in wet conditions but stay calm and learn what you could. He finished the 30-minute session in 18th position.
The second free practice saw some improvement in the weather. The rain had stopped and a thin dry line had begun to appear on the circuit. It was still very cold though. With more experience of the track under his belt Jack Hart steadily improved as the session wore on. He set his three best lap times on his final three laps. His lap time of 1:50.423 put him 13th overall.
Qualifying
On Sunday morning the rain had stopped and although the temperatures were still very low the track was dry for qualifying. Jack struggled in the first half of the qualifying session. After coming in the pits and giving feedback, Santi the British Talent Cup suspension guy made some calculated adjustments. Afterwards, Hart felt able to push harder and reduced his time to 1:44.467. He started the first ever British Talent Cup race on row five, 14th on the grid.
The Race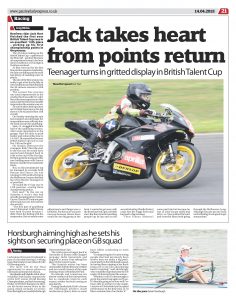 On Sunday afternoon Jack Hart didn't get the start to the race he wanted and dropped back to 16th at the end of the first lap. He then spent the most part of the race battling away with Franco Bourne, Charlie Farrer and Jamie Davis. On the penultimate lap he managed to overtake both Bourne and Farrer. He was running in 12th until arriving at the Melbourne Loop on the final lap when Bourne managed to re-pass Hart. He ended the 15 lap race in thirteenth position, scoring three championship points.
Jake Hart said," In the wet on Saturday it wasn't that bad actually, just going down Craners [Curves]. Then in FP2 only one part of the track was wet. Everywhere else was dry."
"The first part of qualifying wasn't that good. I didn't know how hard to push because I didn't have the feeling with the suspension. But we made some adjustments and things were a lot better."
"For the race I was a bit nervous because I knew there would be one big group at the front. I wanted to get away with the front boys but I got a terrible start. But then I started catching people lap by lap and on the second to last lap Charlie [Farrer] came into the Foggy Esses and had such a big moment. Then Franco [Bourne] came past him but because he was so close he got really bad drive, so I just pushed forward and overtook them both going through the Melbourne Loop. Although Bourne got me back on the final lap it was good to get some points."