Jake Clark scores points despite big crash
Jake Clark from Bromsgrove picked up more points at the fourth round of the Hel Performance British Motostar Championship at Brands Hatch last weekend.
The 14-year-old from Bromsgrove is inside the top fifteen in this British Moto3 championship.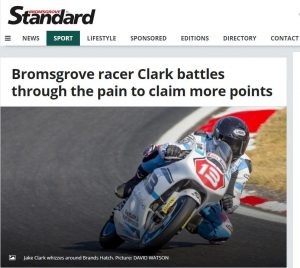 Free Practice
The riders had mixed weather for the free practice sessions on Friday. In FP1 Jake Clark spent most of the time trying to improve his gear changing technique. His 1:40.362 put him in 12th position. Rain then fell before FP2 leaving the track damp. The riders went out on wet tyres but quickly returned to the pits and waited for the track to continue to dry. Eventually they went out on slicks but the surface wasn't dry enough to make any improvement on the times set in FP1.
Qualifying
The weather was perfect for the qualifying session and Clark started well running at the pace of Cameron Horsman and Rhys Irwin. Unfortunately, they then managed to get a tow of a Moto3 GP class rider so Clark came in to the pits and went out to look for a rider to follow. Unfortunately, he didn't find one and a lap later his tyres had cooled and running wide into Paddock Hill Bend he crashed out at 100mph. The rider was bruised, covered in dust but OK. The bike was not. The team did a great job in getting it together for the race which saw Clark start 13th in his category.
Race One
Clark made use of the warm up laps to check his feeling with the repaired bike before the race started. He got a good start to the race but later struggled to maintain the pace and was beginning to feel the aches and pains from his fall earlier in the day. Despite these he managed to cross the line in 12th position.
Race Two
Clark made a solid start to the second race and was in with a group of riders for the first couple of laps. He then ran a little hot in to Paddock Hill Bend and wary not to end up in the gravel as he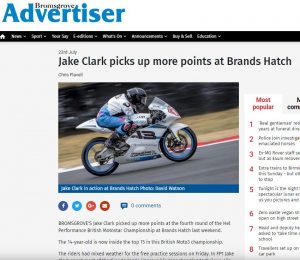 did in Qualifying he had to sacrifice a place to maintain control of his Moto3 machine. He went on to cross the line in 16th place narrowly missing out on another points scoring finish.
Jake Clark said," Congratulations to my teammate Scott Ogden who got his first race victory in race one. Thanks also to my team Wilson Racing and Kyle Ryde's dad, Sean for helping get me back out on track for race one, after my crash in qualifying. I got a bit tired towards the end but we scored points. Race two started well but when I made a mistake at the same place as I did in qualifying I fell back and it altered my race plan."