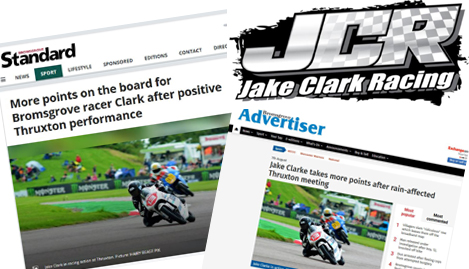 Bromsgrove Moto3 racer Jake Clark was competing last weekend in the seventh round of the Hel Performance Motostar British standard class Championship.
Riding the standard Moto3 Honda NSF for the first time on the Thruxton circuit he made significant progress during the two free practice sessions. He dropped his lap time by almost three seconds on the Friday.
Around lunchtime the 33 GP and standard class riders were back on the circuit for the 25-minute qualifying session. After just ten minutes the rain began to fall in the first two sectors and all the riders headed for the pits. With just 8 minutes remaining, there was a flurry of activity as the shower passed and the whole paddock left almost at once to try and improve their lap times. Clark made the best of the final few minutes cutting his time to 1:25.458 and achieved his best qualifying position of eighth.
Race One
Clark didn't get the best of starts to the race dropping a place, and in the turmoil of the opening laps, he dropped back further. As the race settled down Clark enjoyed a few laps in which he overcame Potter and Swann. Having dropped them he spent the final part of the race trying to pass Ogden and Faber. He eventually went on to finish in a solid eighth position.
Race Two
The feature race on Sunday was trimmed from 14 to 11 laps after several delays throughout the day. Clark made a solid start to the race and was again battling with Potter and Swann. He managed to score 6 more points to add to the 8 from yesterday's race after finishing tenth in the standard class.
Clark has moved up to 13th in the championship despite having only competed in the last three of the seven rounds so far.
Jake Clark said," This is my first time at this track and it's very fast a bit bumpy. I've knocked seconds off my time over the weekend. It was really exciting in both races because I was battling hard with two or three other riders. I'd like to thank Rob Cameron 151s, Wiz, Shoei, Furgan, TCX, Capelli and Chris Clark Plant Services all of who keep me racing."