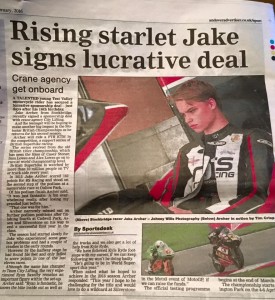 Must Have Media Services are delighted to announce that they are to provide media support to the young motorcycle racer Jake Archer for the 2016 season.
Having recently completed an article for the rider, who has secured major sponsorship from City Lifting, Richard Archer, Jake's father, has kindly asked us to produce the reports for each race weekend during the Motostar British Championship.
Jake Archer competes in the Motostar British Championship which is a support class of the British Superbike series and consists of 22 races throughout the season.
Recently Jake Archer gave a summary of his performance in 2015 and what he hopes to achieve during 2016 on cilindrada.net. The article can be found here.
We look forward to playing our small part within this professional motor cycle racing team and providing the media support for Jake Archer.