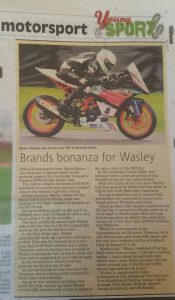 Stroud youngster Myles Wasley is competing in the Santander Consumer Finance KTM British Junior Cup, which is a support series of the British Superbike Championship.
This is his first year and he has made excellent progress. To ensure his supporters and sponsors are up-to-date with his performances we have provided press releases to report back on his racing. In addition, we have also prepared professional race reports he can post on his facebook page as another way of reaching his racing fans and sponsors.
Myles Wasley Brands Hatch GP 2016
The latest article can be found on the Stroud News and Journal website which reports on his races at Brands Hatch.
Another example of Wasley's racing appeared after the Snetterton round in the Northern Echo and the Evening Times.