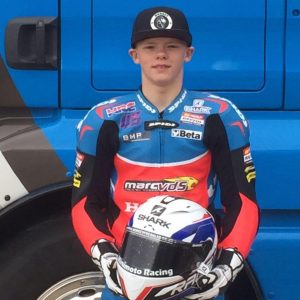 Charlie Nesbitt started his Moto3 Junior World Championship career last weekend with a very impressive 11th place finish and five championship points. This is the racing series that almost 80% of the teams in the full World MotoGP championships look to when selected new young talent.
On the Friday the Monlau Engineering team took part in their first free practice session of the season, in continual rain. Over the winter they had found a base setting but Nesbitt spent much of the time familiarising himself with the bike in fully wet conditions.
There were two 40 minute qualifying sessions held on Saturday. Both were wet. As there were nearly fifty riders competing the qualifying was split into two groups. Nesbitt was in group A and in his first official qualifying session set an impressive 1:45.372 which put him ninth. The second session saw Nesbitt improve his lap time further to 1:44.218, which was nearly three and a half seconds quicker than the time he managed on Friday.
On the Sunday morning the riders were back out on track for a fifteen minute warm up session. The weather had changed significantly. As a result Nesbitt was able to set a lap time of 1:39.556.
The grid was made up from alternately combining the fastest riders from group A and group B riders to make a grid of 40 riders for the race. Nesbitt had been the fastest British rider in qualifying and would start 24th on the grid based on this system.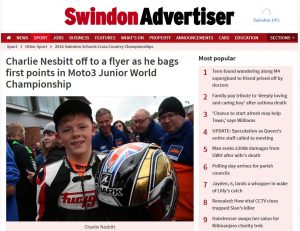 As the 18 lap race got underway Nesbitt immediately gained six places going into the first corner but a crash at turn 4 on the opening lap dropped him back to 25th. By lap five he was running 21st and showed no nerves amongst a highly competitive field. As the race past halfway the rider from Swindon was running 17th. Then with three laps to go he had incredibly made it up to 13th place, but he wasn't finished yet.
After 18 laps and in his first ever Moto3 Junior World Championship race Charlie (Spud) Nesbitt surprised the whole team by crossing the line in 11th place. It was an amazing performance on his debut.
Charlie Nesbitt said, "The result was pretty good. Our goal was to try and reach 15th place and grab a first championship point, so to come 11th and get five was a fantastic feeling. Thanks to Scott Redding and Michael Bartholemy. The team have been fantastic and gave me so much help and confidence. Also a big thank you to SRS and Swindon Electrical for their help too."
Next stop for Nesbitt is a test at Aragon in two weeks time before the team head off to le Mans for the second round of the championship.