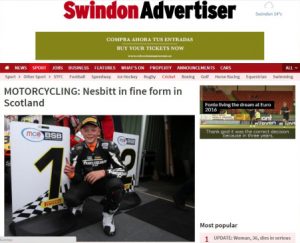 We recently put together a press release and race report for the very talented young motorcycle racer Charlie Nesbitt. The press release was used as a basis for the article that later appeared in the Swindon Advertiser which is Charlie's local paper.
You can see their article here.
Charlie Nesbitt is one of the favourite for the Motostar British Championship title this year, along with another of our clients Jake Archer. We are delighted to be able to support both these talented youngsters.
This weekend the two go head to head at Snetterton in the latest round of the BSB support series.