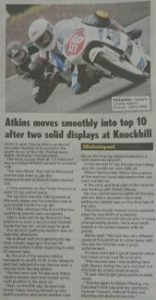 As part of an on going local media campaign Charlie Atkins' latest exploits at the Knockhill round of BSB were reported in the Hull Daily Mail and the Goole Times.
The purpose is to raise and maintain interest in his racing career in and around the area where he lives. The importance is to keep his followers up-to-date with his progress and show his appreciation of their support. Other opportunities such as social media keep him in touch with more distant followers.
Furthermore, the idea of the press coverage is to attract more interest in his racing. The media coverage is used to show existing and potential sponsors one way in which their investment can get them publicity by way of thanks in the article as well as visibility of their logo in the photo that accompanies the article.
There are other ways sponsors can benefit too, and riders and teams often have imaginative ways to do this.