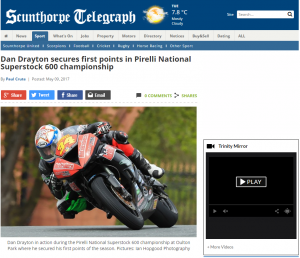 Round three of the Pirelli National Superstock 600 saw 19-year-old Dan Drayton finish a superb seventh at Oulton Park last weekend, and with the third quickest lap time in the race.
Drayton said, " I took a leap of faith when Neil my Crew Chief decided to put in a dry rear, he felt confident the track would dry as the race went on and I trusted his decision. During the first few laps I had some really scary moments, but it proved to be the right choice as I began to get much more feel in the latter half of the race. I knew my pace was so much better allowing me to move quickly through the pack ahead. We were looking for a points scoring finish this weekend so I'm really happy to have finished seventh. Richard Sangwin has worked wonders getting me physically ready for the race, and without my loyal sponsors I could not be in this position It was great to be able to give a good performance to the friends who regularly get to the rounds to watch my progress."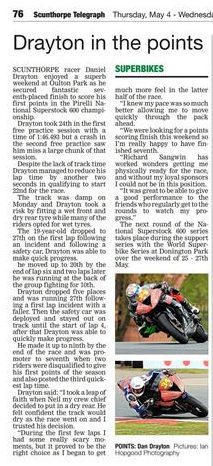 The weekend began with the first 25 minute free practice starting at 9:00 on the Saturday. Drayton set about his task with confidence and in a field of 34 riders recorded a lap time of 1:46.493 which put him in 24th place.
During the afternoon Drayton was back out to further improve his time with the hopes of moving further up the starting order. However, with more than fifteen minutes of the session remaining a small mistake at Britten's saw Drayton clip the kerb and crashed. The result was that he missed a good part of free practice two, which meant he was unable to further improve his lap time and bike set-up.
It was mid-afternoon on Sunday when the Superstock 600 field took to the Oulton Park track for their qualifying session. Drayton had his work cut out after missing valuable track time in free practice two.
Despite the lack of track time Drayton managed to reduce his lap time by another two seconds. Whilst he and the team were happy with his progress the competitive nature of the Superstock 600 class meant that even with this improvement he still had to start from 22nd for the race on Monday.
The riders woke up on Monday morning to a wet track. Although there was no further rain throughout the morning the track was still damp when the 14 lap Superstock 600 race was about to start. Most of the 33 riders elected for caution and choose wet tyres. However, Drayton opted to fit a wet front and a dry rear along with just a handful of other riders believing that a dry line would appear as the race went on.
Drayton dropped five places and was running 27th following a first lap incident with a faller. Then the safety car was deployed and stayed out on track until the start of lap 4, after that Drayton was able to quickly make progress.
The dry rear was proving to be of real benefit and by lap six he was 20th. Two laps later he was running at the back of the group fighting for tenth place. With five laps remaining he made it to the top ten and was around three seconds behind the rider in ninth. Lap 12 that gap was down to just over a tenth and the following lap he was up into ninth. He was promoted to seventh after two other riders were disqualified from the race following scrutineering.
The next round of the National Superstock 600 series takes place during the support series with the World Superbike Series at Donington Park  over the weekend of  25 – 27th May