TJ Toms had another successful race at Oulton Park, achieveing his second posium finish in just two races. Our press release article appears here.
TJ Toms scores another podium in Motostar Moto3 series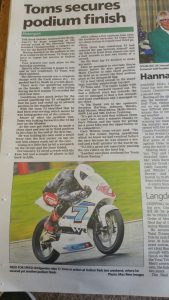 The bank holiday weekend saw TJ Toms competing at the second round of the Motostar Moto3 standard Championship, a support series for the British Superbike series. Having finished on the podium in the first round at Silverstone, TJ Toms was keen to repeat his success at Oulton Park.
Free practice one took place on the Saturday morning. Shortly after starting it began to rain and in wet conditions TJ Toms was third quickest. The afternoon session was a complete change with the track almost dry. TJ pushed hard to finish in 7th place.
There were two qualifying sessions on the Sunday. With the rain falling during the first session TJ recorded the sixth best time. Conditions were much better for the second qualifying but TJ struggled to find his pace and ended up in seventh position in the standard class. With the team TJ identified that he had been over-revving which meant he was losing power out of the corners.
Aware of what the problem was TJ Toms was looking forward to the 14 lap race on the Monday. As the race got underway TJ made a clean start and was up to third position in his class by the end of the first lap. He was holding his own until a small error into the first corner on lap six saw him almost crash out of the race. Going in a little fast he hit a wet patch on the circuit and the front folded. Fortunately, TJ Toms saved a crash with his knee but lost a couple of places to fall back to fifth.
After riding a few cautious laps after the incident at turn one, TJ Toms then set about trying to regain that third position. With three laps remaining TJ had reduced the gap between himself and the riders in front from almost one and a half seconds two tenths of a second.
On the final lap TJ decided to make his move. First he manged to overtake Storm Stacey before he also passed under Mark Clayton to take third position. He held on to secure the final podium place at the chequered flag. TJ is now third overall in the standings just 4 points from top spot.
TJ Toms, "I'm really happy with the way the weekend turned out. We had a difficult start but towards the end we managed to find a few seconds and some confidence and I managed to get third. A big thank you to my sponsors Swindon Karting, Johnson Metals, K&B Motors, Munchkins, Skills Direct, SMW Ltd and SRC Driver Training. It's got to be said that without them I can't race. Also a massive thanks to Gary Wilson and the team for giving me a great bike and the opportunity to be competitive."
Gary Wilson Team Owner, "We had a few issues during qualifying which we knew we had resolved before the race because he was almost a second and a half quicker in the warm up. TJ did a great job especially passing the two riders on the final lap. Another excellent weekend for Team Wilson Racing."