14-year-old Will Lathrope is looking to race for a second year in the Santander Consumer Finance KTM British Junior Cup, a support class of the British Superbike series. After an impressive rookie campaign he has an eye on the title this time and is looking for local business support to help him in 2017.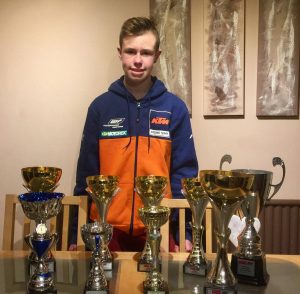 In his rookie season Lathrope finished an impressive sixth overall in a competition that saw 27 riders score points over the year. In an intensely close season long battle Lathrope missed out on the World Final by just four points. The riders placed third to sixth were separated by only 11 points after twenty races.
The young Portishead rider Will Lathrope raced to victory at the legendary Brands Hatch track at the end of May in 2016 and secured five podium finishes in a remarkable maiden season.
The one make series race at the best tracks throughout the UK with the World Final taking place at Assen in the Netherlands this year. As the riders all use a KTM 390 this ensures genuine racing and enables riders and teams to compare their ability much more closely than in some other championships.
Lathrope will be looking to use his experience from 2016 to challenge for the 2017 British title as well as reach and compete in the World final in 2017.
However, before he can embark on the next stage of his motorcycle racing journey the family will spend the winter looking to raise funds to keep Lathrope racing. If you are interested in sponsoring Will Lathrope please contact his dad, Mark Lathrope, on 0773 7810033.
Will Lathrope said, "Although I didn't make the KTM World Final in 2016, I can't be unhappy with how we did. We would never have thought we would finish so close to the top and just four points from the final in my first year. We achieved a lot in 2016, a race win, several podiums and I can honestly say I enjoyed every moment of it. The objective for 2017 will be to build on that success and challenge for the title".