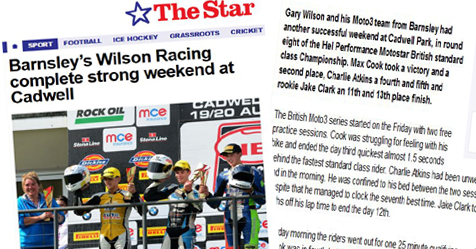 Gary Wilson and his Moto3 team from Barnsley had another successful weekend at Cadwell Park, in round eight of the Hel Performance Motostar British standard class Championship. Max Cook took a victory and a second place, Charlie Atkins a fourth and fifth and rookie Jake Clark an 11th and 13th place finish.
Free Practice
The British Moto3 series started on the Friday with two free practice sessions. Cook was struggling for feeling with his bike and ended the day third quickest almost 1.5 seconds behind the fastest standard class rider. Charlie Atkins had been unwell overnight and in the morning. He was confined to his bed between the two sessions. Despite that he managed to clock the seventh best time. Jake Clark took seven tenths off his lap time to end the day 12th.
Qualifying
Saturday morning the riders went out for one 25 minute qualifying session. Early on Cook was in fourth but with the chequered flag waving to indicate the end of the session, Cook set the fastest lap of qualifying and ended with a lap time of 1:35.950, more than two tenths ahead of his nearest rival. Charlie Atkins was recovery from his illness but posted his best time of the weekend to date and qualified sixth. Rookie Jake Clark had his first spill on a Moto3 in qualifying. He was unhurt and despite only completing eight laps he had done enough for a top ten start for the race.
Race One
Although, on pole position one of Cook's rivals made a better start and took the lead in the standard category. By the middle of the race Cook was around 1.5 seconds behind the race leader but clawed back the time over the remaining laps. On the penultimate lap he overtook the race leader. The final lap saw the lead change three times but Cook managed to secure his twelfth victory of the season. Charlie Atkins wasn't at full strength but immediately made up one place as the race started. Despite not being fully fit he went on to finish a fantastic fourth. Jake Clark made a superb start to the race and was running as high as seventh. With the riders bunching up later on plenty of elbows and paint swapping ensued. Clark crossed the line in a group of four riders separated by nine tenths of a second in eleventh place.
Race Two
Cook made a good start but was overtaken on lap five. Trying hard to chase down the race leader he ran off onto the grass at Hall Bends and into the chicane. In the end he finished 0.053 seconds behind the race winner. Charlie Atkins was feeling much stronger for race two and starting sixth in his class immediately made up a position. However, he was held up by a rider in the GP class who was slower round the corners but had faster straight line. He was unable to make it to the group ahead. Instead he spent the race making sure he kept his standard class rivals behind him and crossed the line in fifth. Jake Clark managed to score more championship points as he finished 13th.
Cook now has 346 points and is 105 ahead of his nearest rival with seven races remaining. Atkins is fifth and has scored over 40 points more than he had done this time last year. Clark is now 12th overall having missed the first seven races.
Gary Wilson said, "The lads have been great all weekend. This is a very narrow and tight circuit so to have all three finish both races was a good result. Max had another two podiums and Atkins did really well too considering he's been ill. I'm also really pleased with Jake. He struggled a bit in race two but stuck at it and showed great attitude."
Photo used was from Hairy Beast Pix